We'd had the guesthouse for ourselves for five days, so it was a shock to the system when it suddenly filled up with other guests over the weekend.
Two couples and eight South African women all appeared bringing noise & activity to our tranquility. We quickly ascertained that the South African ladies were on our boat for the Nile cruise. I must admit that my first thought was that we were going to be sharing a boat with a clique. They were older than us and were all friends. Their arrival resulted in flustering around, checking each others' bedrooms and for one lady, frantically phoning her personal banker on the Isle of Man because she was concerned that her bank card may have been compromised after using it in a possibly dodgy ATM. I wondered if I knew the bank staff from back home on the Island? Small world and all that. As the ladies flitted about, Elaine commented that organising them would be like herding cats! She wasn't wrong!
After the initial excitement settled down, we all had a drink and chat. After being there for almost a week, we were the experienced travellers, with advice to give! One of the couples managed to get a Luxor Pass, which they hadn't known existed.
The other couple were from the USA and had been travelling widely. Both had work that they could do on the move. A laptop & a WiFi connection were all they needed. Unfortunately for Greg, the WiFi was playing up a bit that day. But having arrived from Ethiopia, they were used to intermittent communication. We went out for dinner with them on the Sunday and found them to be a really nice couple. It was disappointing that they weren't on our boat but the South Africans were. 
On the Monday morning, we were in to minibuses for the drive from Luxor to meet the boats at Isna. We were travelling with Stacey & Greg. The South Africans were in other vehicles. 
Arriving at Isna (sometimes spelled 'Esna') we were taken for a walk (roll) through the town. The market was alive with noise & colours. In my wheelchair, with the Batec attachment, I was doing battle with tuc-tuc drivers, donkeys and pedestrians.
Using a wheelchair around Isna market.
One of the key points of interest when travelling is being close to the people and their real world. Although the cruise passengers went for a walk through the market, this wasn't a tourist place and the people we met were interested in us. Stacey in particular became the centre of attention as some teenage girls, presumably on their way home from school, mobbed her. High fives & smiles. After our previous celebrity status at the temple, I expect she was repeatedly asked "hello, what's your name and where are you from?" 
We finished our tour and went to the boat. Egypt isn't the most wheelchair accessible country, with few dropped curbs. The river front road had a raised central reservation/pavement which wasn't going to make crossing easy. Instilling a slight panic in our guide, I decided that the easiest solution was to put the Batec up to full speed and join the road traffic until the next junction and use that! The Batec will do about 12mph to 15mph depending on terrain etc, so a wheelchair at that speed attracts attention. I was receiving lots of strange looks, that were almost always followed by a smile and a wave! As I returned to the group, on the other side of the road, I scanned ahead for a drop curb, and was soon on the pavement. 
We boarded the boat and I spoke with the crew as to where best to store the chair & Batec. Then we found our cabin.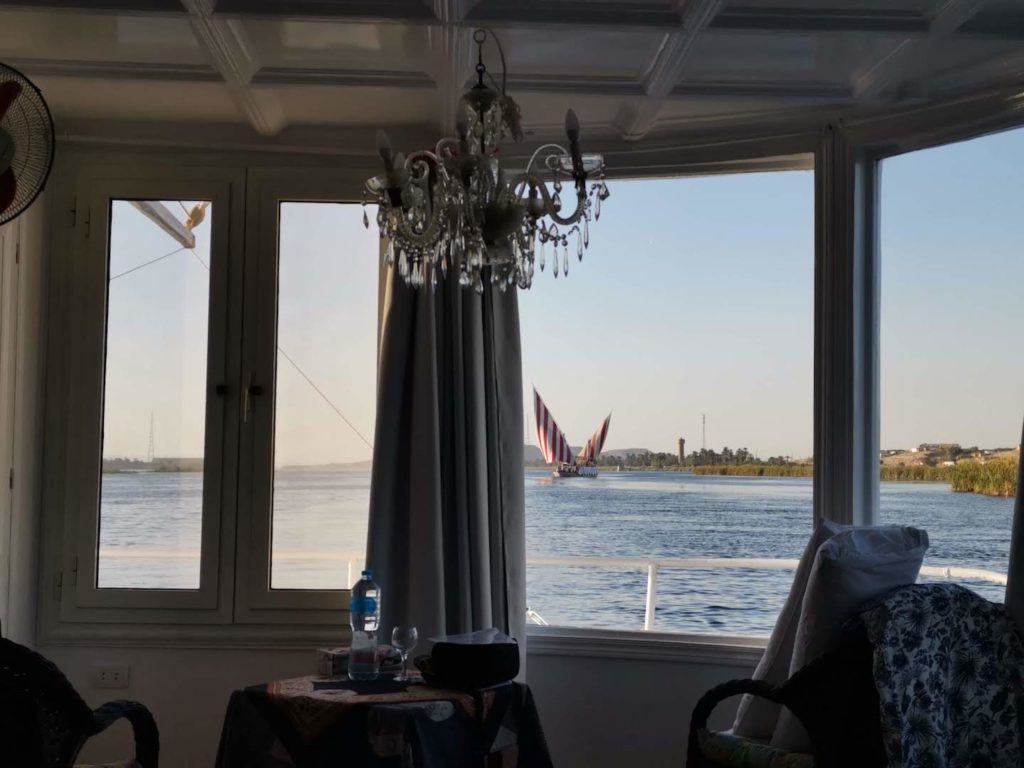 We'd booked one of the two panoramic cabins at the stern. This was Hobson's choice, the other cabins were already booked. It was delightful. The cabins were slightly 'rustic' rather than grand. If you were that way out, you could pick fault with the tiling in the bathroom or whatever. But for us, it was exactly what we had in mind. A large comfortable bed, air-conditioning, a table and a couple of chairs, a book case with a selection of books… and a tranquil view of The River Nile. 
We opened the windows, sat in a chair and watched as our flotilla was pulled away from the shore. Eventually we went to explore the boat.
Sometimes, you just have to admit that first impressions can be wrong. 
Far from being cliquey, the South African ladies were warm and friendly. They immediately welcomed Elaine & I and another couple, a French woman & her American partner, in to their group. Although we'd exchanged pleasantries at the guest house, it was on the boat that friendships formed. The format of the boat lends itself to people 'getting on'. The evening meal is taken at one long table, where all guests sit together. With only two male guests, Rob & I were somewhat outnumbered! He'd brought a flute with him. In the evening, we had 'live music'. Initially, when I saw Rob appear with the flute, I thought it somewhat pretentious. But it added so wonderfully to the ambiance. 
My first impressions were really failing me on this trip! 
We sailed gently until dusk, then moored. There was a walk arranged. Still unsure of me and my abilities, there was a bit of discussion as to whether where we were going was wheelchair accessible? It was decided that one of the crew would come with me, so if needed, I could turn back and return. In fact, there was nothing to be concerned about. The wheelchair has off-road tyres and a shock absorber. While the dirt path was rutted and bumpy, it was easy for me. We walked out to a small village where we met villagers and were shown in to a home. Obviously part of the tour. On the one hand, it makes people's homes look almost like a zoo, for tourists to gawp at. Alternatively, this is a way of spreading tourist dollars in to rural areas. The additional money from tourism can make huge differences to small communities and it does inspire younger members of the villages to learn additional languages, thus opening up opportunities for them. I tend to feel that it is a positive for all concerned. 
Back on the boat, we slept soundly. 
The following morning, up for breakfast. Eggs, fruit, crepes, fresh juice and coffee as we casually sailed The Nile, sometimes being towed by a tug-boat, sometimes under sail. Throughout the trip, the food was excellent.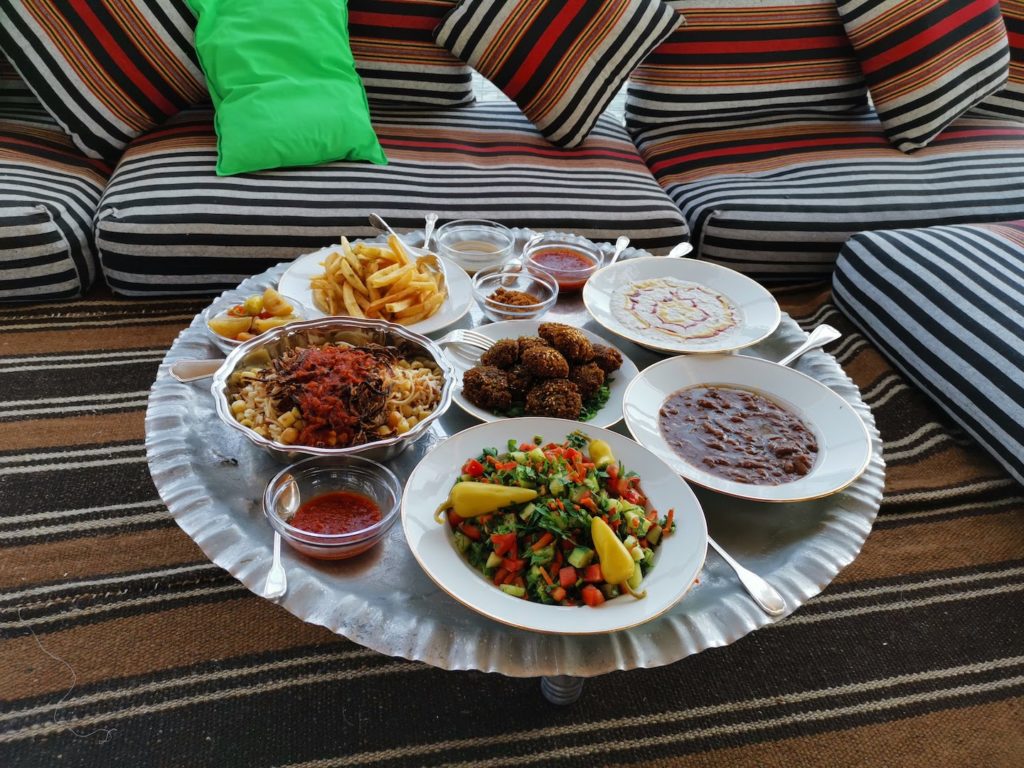 We lounged on the deck, watching the world drift by. We'd moor up somewhere and have a trip ashore. Attached to each boat, but travelling independently, was a guide who took us on the shore trips, explaining to us the temples and archaeological sites. Our guide, Adel, had a Masters degree in Egyptology. Having videoed Muhammad at Karnak, I took many clips of Adel delivering his presentations.
Did you know that the ancient Egyptians had pregnancy testing?
The sites  were each as incredible as the last. On some of the more challenging excursions, crew members came with me to assist. On one particular trip, there was a lot of soft sand and I had two guys pushing me through it! They ended up sweating in the mid-day sun. Yet everything was done with a smile. 
Do you know the film 'The Killing Fields'? If you don't, you should seek it out. It is an incredible movie about the atrocities committed in Cambodia during the 1970's. Spalding Grey was a small part actor in the film, which was actually shot in Thailand. He does a monologue about the production of the film. In it he says "the Thai's are the nicest people money can buy". It's a wild and somewhat gross characterisation but when we visited, I kind of knew what he meant. We always felt that ultimately, people expected a dollar, unlike, for example, Vietnam, where people viewed tourists with interest, wanting to simply talk to practice their English or share an experience. In Vietnam, we only really felt like people expected something when we were in Saigon. In Egypt, there are of course people hawking their wares but other than when trying to sell goods, the vast majority of the folk that we met were helpful and happy to interact with tourists, not for money but because culturally, they are welcoming & friendly. 
And the guys on the boat were exceptional. In particular with me having a disability, they went out of their way to ensure I was safe & comfortable. But also, that I got the most out of the experience. One such occasion was swimming in The Nile. We had a few opportunities to take a dip. I'd decided that I wanted to do this, so asked the guys if they had a life jacket that I could use? A couple of the crew helped me in to one, then escorted me in to the river. They swam/floated with me, then helped to walk me back on to the shore and on to the boat. Elaine thought I was crazy! She had decided back on the Isle of Man that she would not be going anywhere near water unless the boat sank and she'd refused to pack anything to swim in, so that she couldn't be bullied in to it! Anyone who's met my wife will know she's far too stubborn to be bullied in to anything! But I'd packed shorts just for this. It was really pleasant, drifting in the water.
There were multiple opportunities to swim, but I was happy to have achieved it once.
Salesmen. 
I mentioned 'perception' in another blog. Two different people will have a different perception of an experience.
It isn't that we have a different point of view, it's that we have a different viewing point.
I found the 'sales' to be much lower key than I'd expected. Even at the pyramids, the people selling their wares didn't really hassle anyone. We disembarked to visit one temple and a guy off another boat was becoming incredibly angry with a bloke who was trying to sell him a t-shirt. He was waving his arms and shouting, eventually saying repeatedly "no, fuck off, just fuck off,' while still gesticulating wildly. The salesman was still following him. I didn't see the end result, I suspect that he was relieved to get inside the temple, leaving the t-shirt guy at the gate, no doubt waiting for him as he exited.
Elaine and I have a different way of dealing with vendors. 
First time of being approached, a cheery "no thank you" said with a smile and wave.
Second time of being approached by the same person, "no thank you" with no smile or eye contact.
Third time of being offered the item to buy, we completely ignore them and carry on, talking to each other as if they were not there. 
The sales folk will quickly drop off someone who is not interacting at all. It may feel like you are being rude, but in fact, you are saving their time and making your intentions clear. 
Now if you stop and examine the items or accept a 'gift' then all bets are off. Don't be surprised if that person is still trying to make a sale as you arrive at the airport departure gate! 
Compared to many places in the world, Egypt was low-key on the sales/hassle scale.
This was the format for the cruise. Plod gently along, often at a couple of miles an hour, under sail. Moor somewhere for a trip ashore. Sail somewhere else, then have some time for relaxing in The Nile. Head further up-river, then moor for the night.
A lovely dinner, freshly prepared & served by our own chef. Then chat through the evening over a few beers. Sleep and repeat. 
All the time, watching large ferries racing past, belching out huge swathes of diesel fumes. I'm sure that if we'd been among the hundreds of passengers on board one of those large boats, we'd have enjoyed The Nile experience. If you had children it would be useful, having a swimming pool on board, or if you wanted to top up a tan while you sail, then sun loungers may be handy. But not one person on 'Adelaide' felt an urge to swap boats.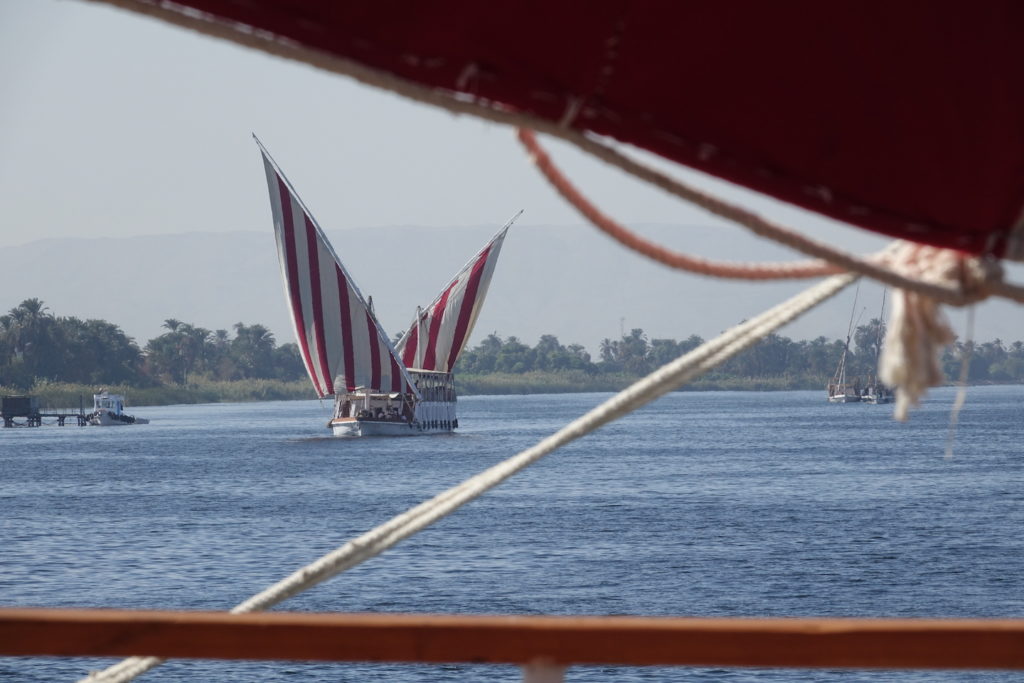 Except, possibly, when the 'SS Sudan' sailed past. This is the paddle steamer (now sadly converted to diesel) that Agatha Christie began writing the very book that Elaine read during this voyage… 'A Death on The Nile'.
After five nights, it was time to say goodbye to the self titled "Keith's hareem" as we'd reached Aswan. Everyone said that they would love to do this trip again (in fact, for the French lady and two South Africans, this was a repeat trip). 
It is not cheap, but it was worth every penny. We probably didn't get full value out of the additional cost for an upgraded 'panoramic' cabin, simply because we spent so little time in it. I suspect that if we were passengers during a hotter time of year, we may, as we'd be using the air-conditioning more frequently. But if you simply want a cabin with a bed, and plan on spending most time on deck, as we did, then a standard cabin is fine. And relaxing & socialising on deck is where you should be.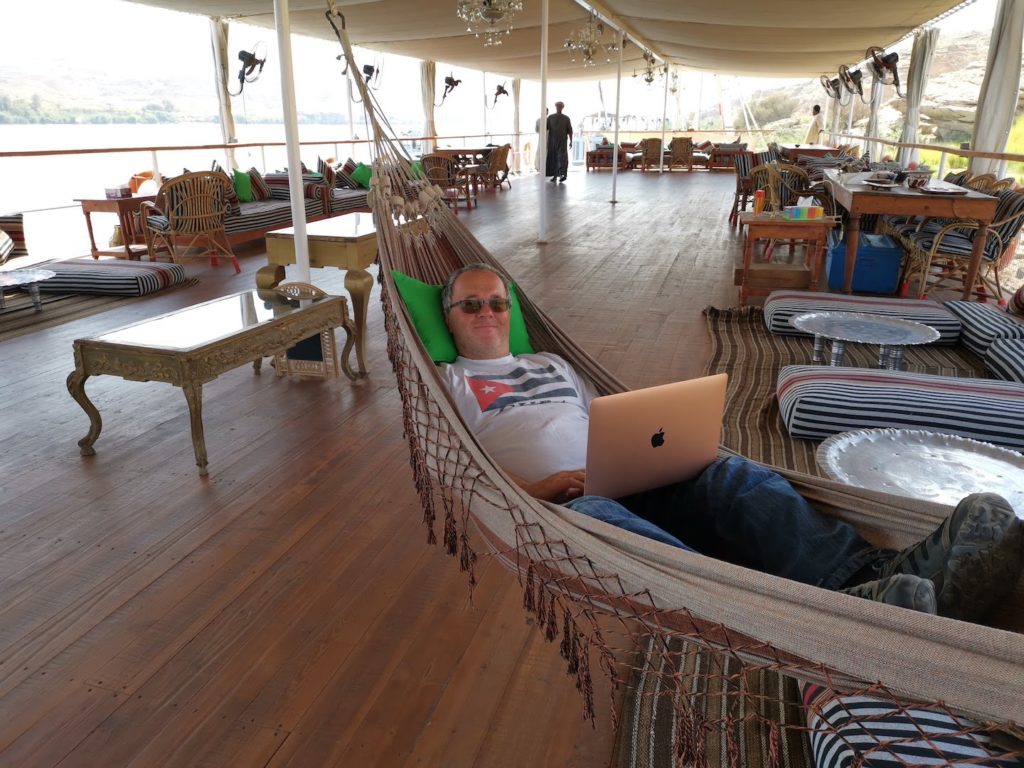 We said our farewells on the Saturday morning after breakfast and arranged to meet up on Sunday afternoon in Aswan.     
We travelled with Nour el Nil in November 2019:
I will admit to having some concerns about paying for the trip in advance, via money transfer, but obviously, it was fine. Having a facility to easily pay via credit card would give more confidence as the credit card would offer some protection in the event of the company ceasing trading etc. But they have been established for many years, and hopefully will be around for a long time to come. It is possible to pay by card, if you contact them but there is a surcharge. As payment has to be in US$ or Euros, it adds to the expense for Brits, who need to exchange from pounds, then make a payment. Not much to do about that but be aware that it will add about 5% to the cost. 
There is a recommended 'tipping' policy. While this is not obligatory, the guys were certainly worthy of the additional payment, but again, be aware in advance. Everyone was more than happy to make this additional payment as the crew were great. Everyone on our boat said that if they return, they want the same crew!
Disability:
The crew were fantastic, helping me to get ashore and do all the trips bar one, where the boat was moving to a different place while people were walking. The route involved going in to the desert for a little while, so if I'd become stuck in the soft sand, I couldn't simply turn back.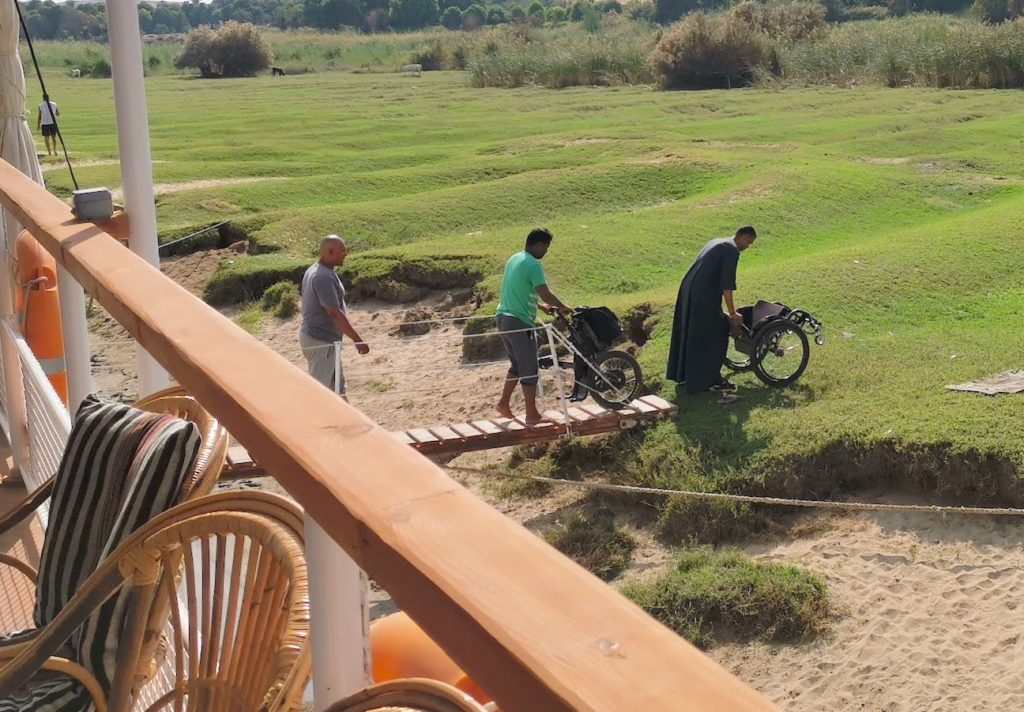 The boat itself is not wheelchair accessible. Because I can walk short distances with two walking sticks, I was able to get around with minimal difficulty. Getting on/off the vessel was always fun, with rope rails that obviously moved, and occasionally, not that smooth land to step on to, but again, the crew were very accommodating. There was a short flight of steps to get up/down from the deck to the cabin, so anyone doing this trip would need to be able to do steps.
Basically, if you can manage a short distance and stairs, then this trip is okay, but not being able to climb steps or walk a gangplank would make it very difficult.