Rolling With Me
(www.rollingwith.me)
Clever name eh? Well, I thought so but then, I'm easily amused.
Rolling With Me as I roll around in a wheelchair. Or as in 'rolling with the punches' and how to keep getting up and going on. Or simply because I thought www.rollingwith.me was a clever way to use the .me domain?
I'd thought about blogging for a while, documenting my life since I acquired a disability in May 2013. Hints & tips, things that you don't get told when your life takes a sudden and dramatic change in direction. Choosing a wheelchair, buying a car. Work. All that stuff.
You may be asking yourself why would you want to read my ramblings? There are loads of 'disability blogs' out there. What makes me special?
And it would be a good question too.
In terms of disability, I'm certainly a rarity. Prior to becoming physically disabled, my full time job was managing services for physically disabled people. Isn't that ironic? And I mean real, dictionary ironic, not the Alanis Morissette type as Ed Byrne discussed some time ago…
I'm also a Registered Nurse. You can be pretty sure that I was a pain in the backside to have going through the rehab unit! It meant that I knew what was coming and the advice & encouragement I'd given to other people over the previous ten years, I now had to take on board myself. The most advances that you can make post injury are in those first few, intense months. Which is the one time when it is hardest to come to terms with the new disability. What did I do? How did I cope? That'll be a subject for a blog all of its own at some point. But basically, being stubborn, having a weird/dark sense of humour, being able to get back in to employment really quickly because my office & toilets etc were already wheelchair accessible due to the client group that we supported and having a fantastic wife who is amazing, as well as strong family & friends, all made it easier.
In the blog, I will primarily focus on travelling and hopefully inspire other people to go for it. But also 'lifestyle' hints & guidance too. Some of it will just be 'stuff I like' that has nothing at all to do with disability, because being a person with a disability is something that I am, not what defines me. If you find it interesting, or better still useful, please, let me know.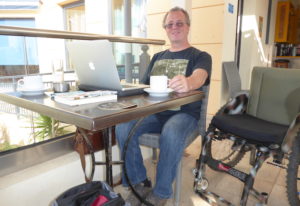 I started this blog while sat out by a pool in Kato Gouves, Crete, late October 2018. This was a 'chill out' holiday, doing very little. I set myself a task of beginning this blog to stop me from getting too bored. Somewhere in the blog, you'll find a write up of this trip and access etcetera.
When I acquired a disability in May 2013, my life changed, it didn't end.
This is my story, my life & my thoughts. Hopefully you'll want to visit again.
Please do get in touch, either in the comments section or by emailing me: