After disembarking the boat, we took a taxi in to Aswan. If you read my Luxor blog entry, you may recall how Elaine didn't want to use the public ferry to cross The Nile in case either I fell in or the wheelchair was dropped in the water? As a result, instead of 25p each, we spent about £35 on a long taxi ride in to the city? Well…
I decided then, not to tell her that in Aswan I'd booked us in to a bed & breakfast on Elephantine Island. The clue to our destination being in the word "Island". There are no cars and no bridge. Only the public ferry. I figured, they must get fridge-freezers over there, so how hard could it be, a bloke in a wheelchair? No point telling her this while in Luxor and having her worry unnecessarily…
One of the key issues when travelling as a wheelchair user is research & plan, then research & plan. Afterwards, research & plan a bit more. After lots of researching & planning, I'd decided that I was happy with the level of risk involved in crossing the river, what could go wrong?
Well… dropping off from the taxi with suitcases and discovering that there were about fifty steps down to the ferry, that's what could go wrong Mr Clever-Cloggs! Not so smart now are you?
We sat for a while, assessing the situation, Elaine not happy. I could walk down the steps using a walking stick & the rail but the Batec, wheelchair, rucksacks and two heavy suitcases would be more of a challenge. Elaine could (in the late morning heat) carry heavy suitcases down, then the awkward Batec, and wheelchair but a heart attack could not be ruled out if she did! It would take four or five trips and like one of those puzzles where someone inexplicably has to take a fox & two chickens across a river, but can't leave the fox and a chicken together, but can only carry two items at once… …no matter what we did, we'd have to leave luggage unattended while doing trips up and down the stairs. While pondering, we were approached a few of times by helpful Egyptian men offering assistance, including one who, with hindsight, was trying to tell us the correct answer. But the other 'key issue' when travelling is to keep your guard up the most, when something isn't going right, as that is when you are at your most vulnerable. So when someone says "come with me", I'm always incredibly sceptical and politely declined.
After a few minutes, knowing we were in the right place and that despite her stubbornness, Elaine could not manage this alone, the next couple of young guys who offered to help us, we gladly accepted their approach. Elaine went down with them on the first run while I stayed at the top, then they returned for the other items as I made my way down the steps. A tip was passed over and our temporary porters departed with smiles and handshakes. Getting on the boat wasn't too difficult, despite Elaine's concerns. At the other side, more assistance was accepted for another, shorter flight of stairs. One of the people helping was a tourist. What is the etiquette for tipping tourists? We were taken the short distance to 'Nooba Dool' [AKA 'Batotta House'] guest house. We paid £46 for two nights B&B. This was a traditional Egyptian property, with high ceilings & tiled floor. The owner, his daughter and his nephew were the main people who we saw but other family members worked there too. The beds were basic and the toilet was directly beneath the shower, almost like you'd expect in a camper van, but for £12.50 per person, per night, with air-con what else was expected? It was clean and the people we met were all very friendly. The food was fresh & tasty. I'd happily stay there again, or just recommend it to others, on the off-chance that Elaine refused another go on the ferry!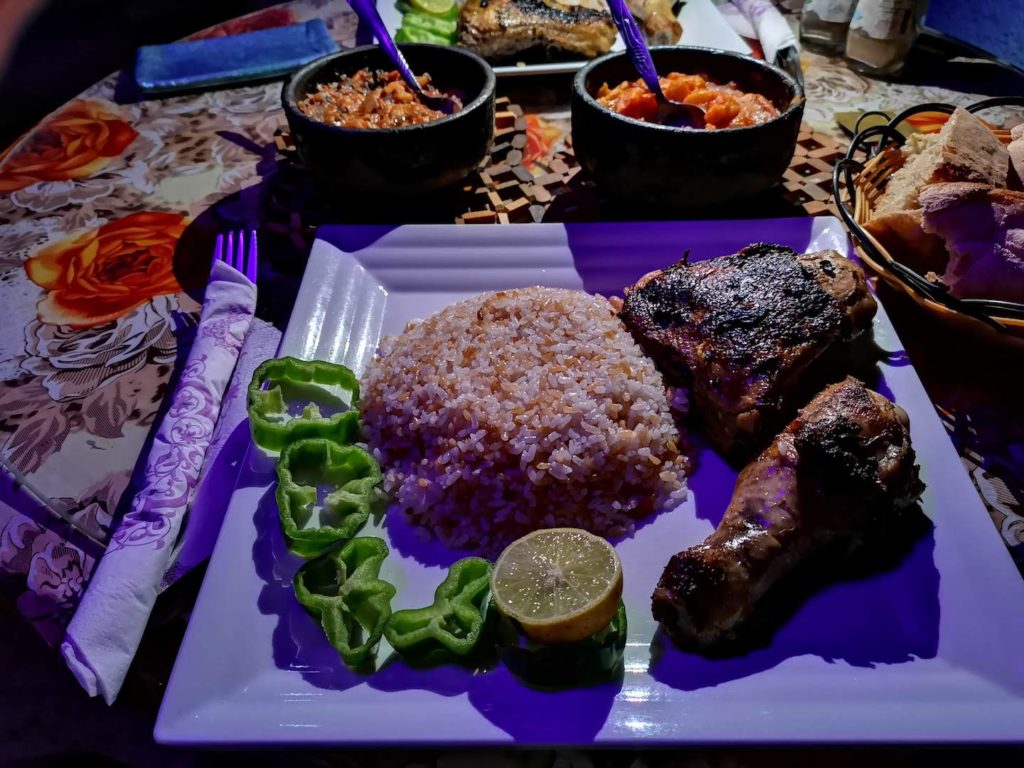 Elephantine Island has a pyramid and some other archaeological sites that I wanted to visit but Elaine just wanted to chill out so we settled for sitting on the roof terrace and watching the world go by. With being on the island, it was actually quite peaceful despite being in the middle of the city.
Sadly, the peace & quiet was tragically disturbed the following morning. A young man (I originally thought a child, as his age was lost in translation) had died during the night. He was in his twenties and died unexpectedly in his sleep. We've seen women wailing too often on the news following bombings or other tragedies in the Middle East, but this was our first direct experience of that blood-curdling sound. Experiencing culture is one of the greatest reasons to travel, but occasions like this would be preferably missed. As news spread, there was a steady stream of mourners visiting the home of the young man to pay their respects with the visiting women joining in the wailing. With the community on the island being so small, he was known and liked by everyone there. Adding a surreal dimension to the women crying, two children in the area had vuvuzelas, those irritatingly noisy trumpets that were popular at the South Africa World Cup a few years ago. They appeared to be trumpeting to each other in some kind of game, tooting from one side of our building to another, creating a cacophony of noise.
On Sunday afternoon, we headed down to the ferry in order to visit 'The Old Cataract Hotel' for afternoon tea. Shehab, (apologies for the spelling if incorrect) the nephew came down to the boat to assist with boarding and crossed the river with us. He'd arranged for a friend to carry us in his boat, which was just as well, as the regular ferries were loaded with more women dressed in black, coming to pay their respects, or leaving having done so. The boat took us to a different landing stage a few hundred yards from the regular one, and where with hindsight, we realised the gentleman who wanted us to go with him, would have taken us. It had a slope down to it, so easy access for the wheelchair. If you divert the ferry to pick up here, the price goes up to 30 pence or six Egyptian pounds. We set a time to return that evening and Shehab said that he would meet us at the landing stage to help us on & off the ferry again. When we offered him a tip he refused it, saying that we were his guests and he simply wanted to ensure our stay went smoothly. We'd heard before we went to Egypt that it was very 'tip orientated' and that tips are expected everywhere, but in fact, compared to many places, we found the people, while often grateful, weren't actually that demanding or expectant of a gratuity.
Two of the people on our Nile cruise were booked in to 'The Old Cataracts Hotel'. A favourite of Churchill and Agatha Christie, this old, magnificent hotel overlooks the river. I did look at booking it for us but it was ever so slightly more expensive than Nooba Dool. About twenty-five times more expensive! I did consider spending almost £1,000 (that's British pounds, not Egyptian!) just for the one-off experience, but simply couldn't bring myself to do so. But everyone from the cruise had agreed to meet there for afternoon tea & cocktails as well as a bit of a nosey around the place.
We arrived and had to pay £300EGP each to get in, but this came with a £300EGP voucher to be spent in the hotel. By pure coincidence, a cocktail was £300EGP (about £15 GB) so a good way to stop people wandering in for a look and then not spending any money there!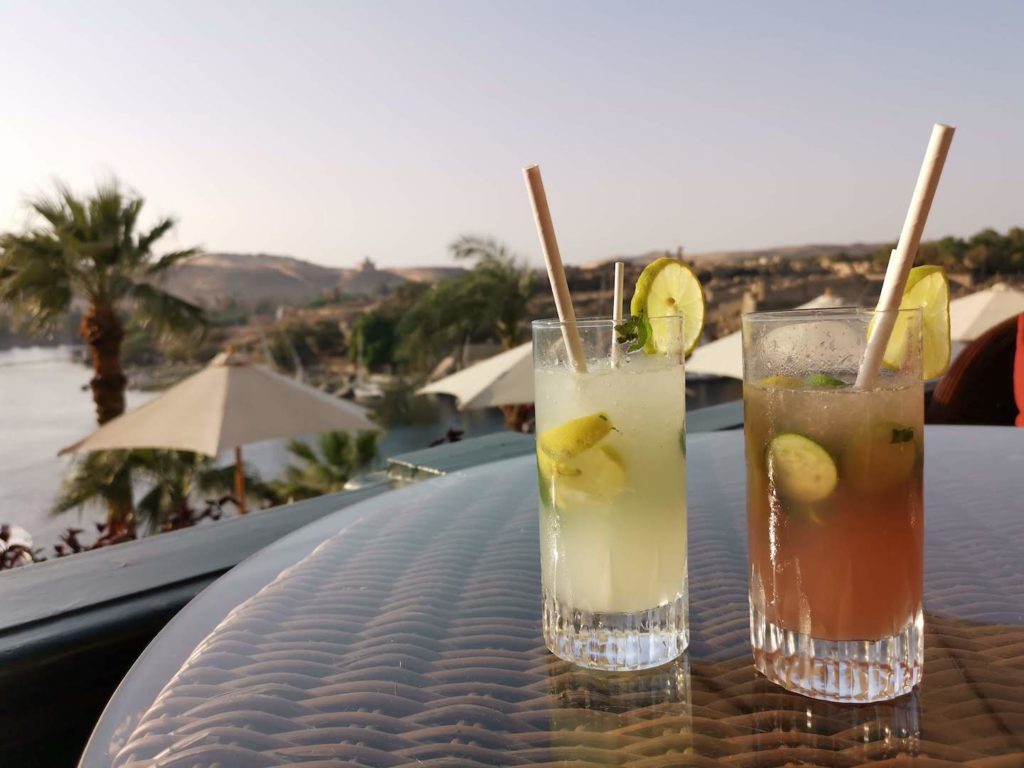 We sat on the balcony and were soon joined by our friends from the cruise. The couple had done a [long] day trip to Abu Simbel, having spent the previous night in the Old Cataract Hotel, while the South African ladies had gone straight from the boat to Abu Simbel and spent the night there. This had allowed them to see the light show in the evening and the sunrise, which they all said was spectacular. I wish we'd gone there, but also recognise that it would have been a lot of additional travel, and therefore exhausting. Sometimes travelling as a person with a disability requires you to push through, knowing you'll pay for it later, other times, it is about balancing energy. With hindsight, perhaps an additional night in Aswan, so we could have rested, then travelled to Abu Simbel, stay over night, then back to Aswan would have been a good balance?
Oh well, next time…
To the left of the Old Cataracts Hotel (as you look to the river) is an awful building, the 'New Cataract Hotel'. While I've no idea what it is like inside, I can imagine the disappointment felt every time guests look out of their window and see the grand old lady next door. I also don't know how much cheaper the 'new' one is, compared to the 'old' hotel, but if you are staying in Aswan, make sure you book the correct one!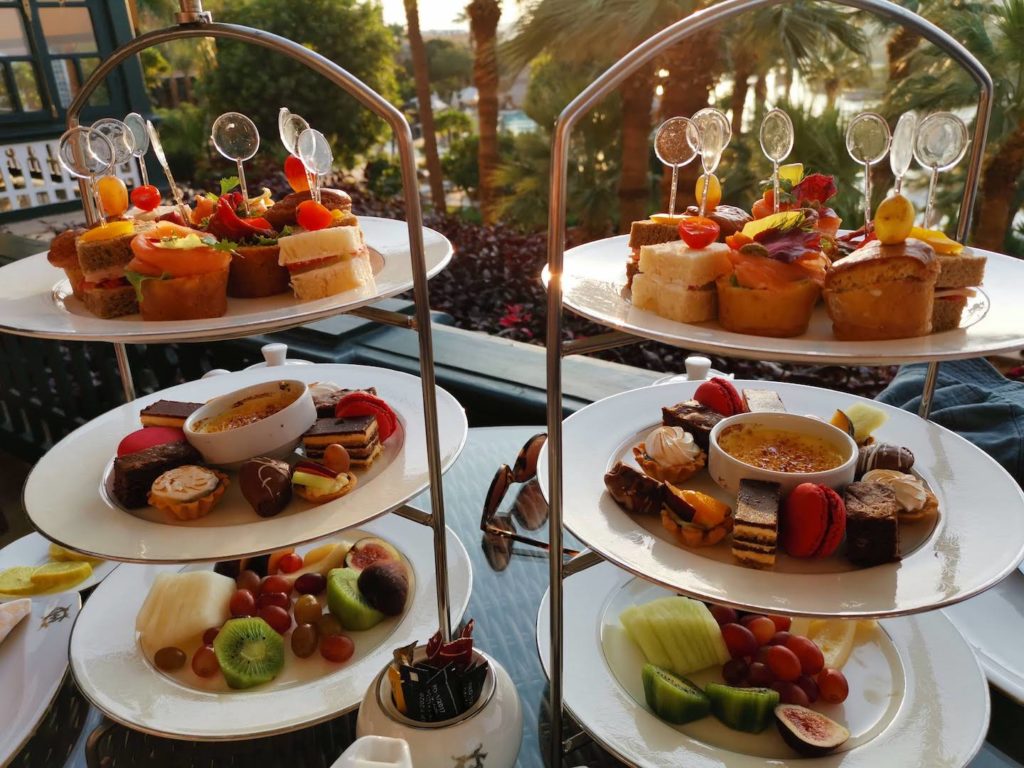 After eating tea, we said goodbye to the ladies, who were staying elsewhere and had something planned for the evening, so needed to head off, then we were taken for a tour of the hotel by the other couple. You could easily imagine yourself back in the 1920's with flapper girls & Hercule Poirot stalking the corridors! Their room was huge & beautiful, as expected. A different world, quite literally.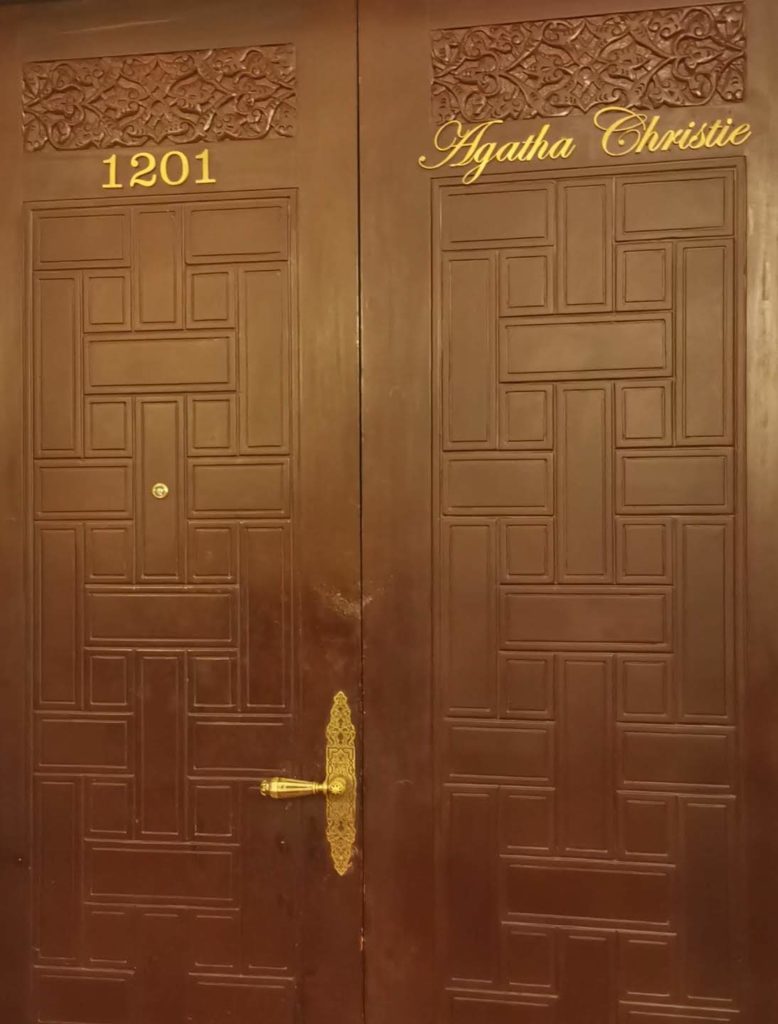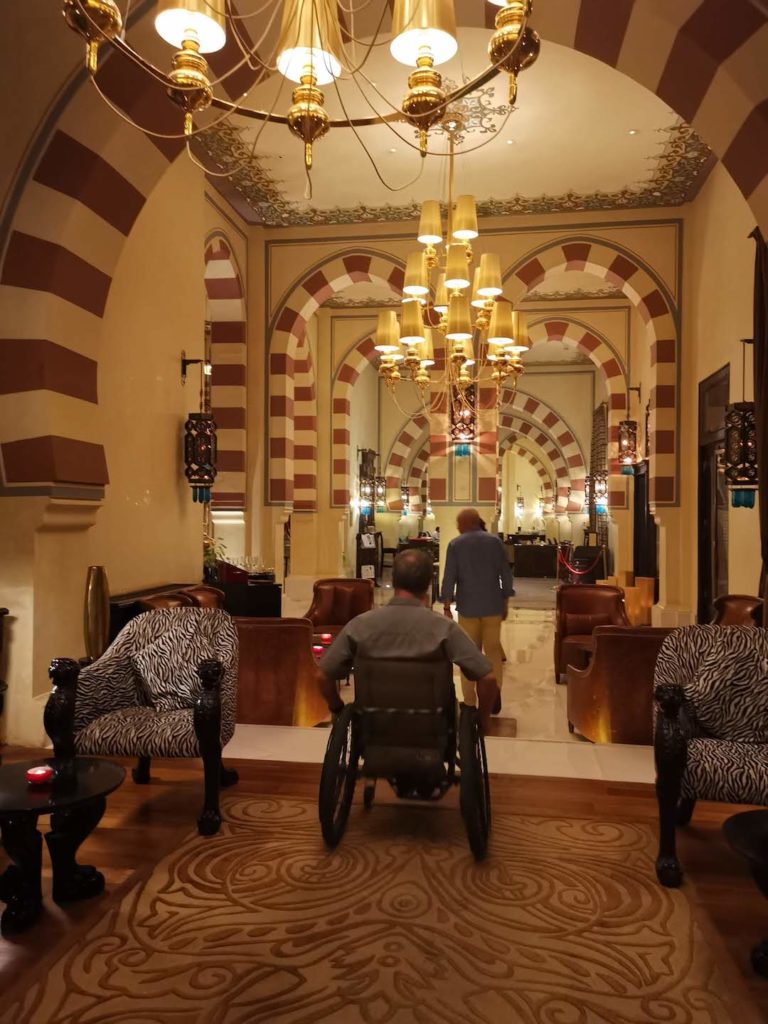 After our goodbyes once more, we headed in to the city to look for the night market. We'd been told that the night market in Aswan is much more relaxed than elsewhere. With a lot less tourists here, the vendors are not particularly pushy. Having been through the souk in Marrakech, I'd say they weren't in the slightest bit pushy! A good sense of direction was helpful, especially as in a couple of places, there were raised blocks all down the centre of the road, presumably to stop mopeds doing sudden 'U'-turns. But this also stopped wheelchair users from crossing! As a result, we meandered quite a distance in to the city, away from the river, before working our way back to the night market. We were the only Europeans that I saw, the market with bright lights & colours, spices & noises, cheap tat & expensive electronics, clothing & food, is aimed more at the locals than tourists. Culturally, because of the heat, in Egypt it is the evenings when cities really come alive, for shopping and socialising, so the market was busy with locals. As a result, especially me in my wheelchair with an unusual adaptation, we were receiving friendly attention everywhere. When on one occasion, our route was blocked by steps and we had to turn back, the group of young lads on the street corner loudly greeted us for a second time 'hey! You've come back so soon!' with lots of laughter. As well as the waves and laughter, we were also met by a horse & cart, trying to do a 'three point turn' in a tight alley way. Not what you see on a trip to ASDA. Eventually we found a guy selling papyrus. We'd intended on bringing some home as souvenirs. Again, it wasn't a 'hard sell' and we browsed in quite a relaxed manner.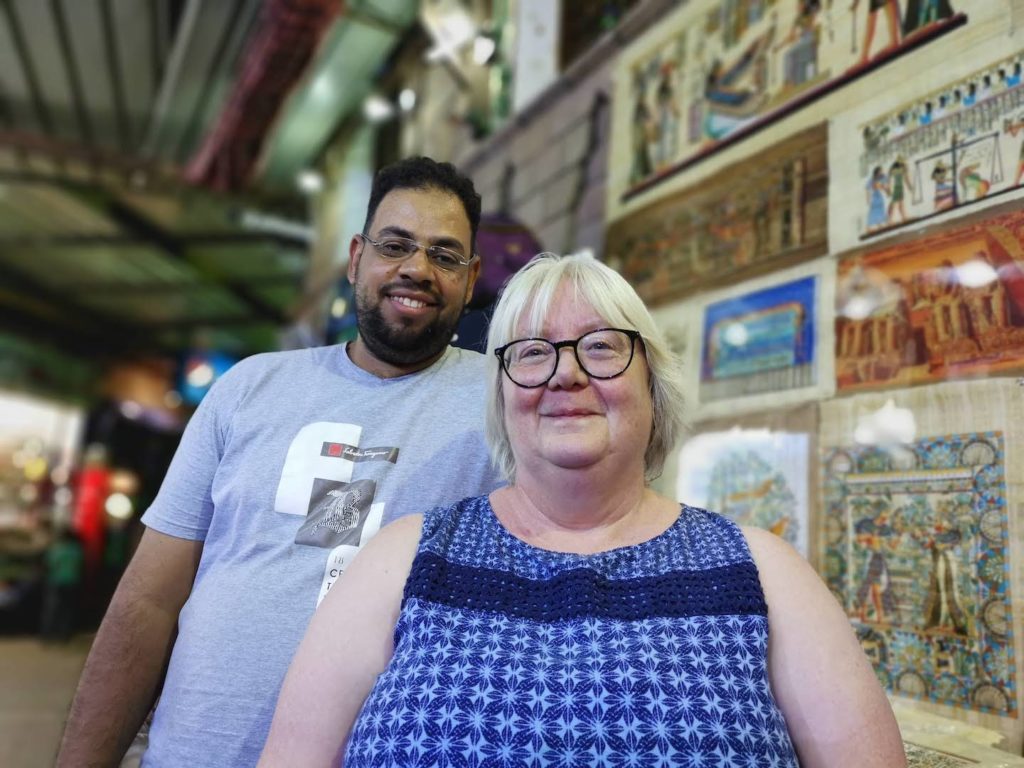 There was a little bit of bartering, but not much. Bartering is always strange for us Brits. While some people enjoy it and others hate it, I tend to sit somewhere in the middle. I'll have a go if I think the opening price is stupid, but I generally just have a price in my mind as to what I think something is worth and aim for that. A few souvenir prints on papyrus were never going to break the bank, so we quite quickly reached a price we were okay with.
Is it genuine? Probably not.
Does that matter? Not really.
And the few extra pounds that we could have saved would mean a great deal more to the stall owner than us, so my attitude is once it is fair, just pay up.
Mission accomplished, we headed back to the river and wandered down to the jetty to meet Shehab at our pre-planned 9pm. We were early, and got chatting to some of the blokes who were hanging around there. One guy worked for a hotel on another island. Their shuttle boat goes to/from that landing stage as it is easier for their guests. Shehab arrived, running from the road, having come over on the regular ferry, apologising because his friend had been held up. He didn't want us to worry, so came over ahead of his delayed mate. Yet another example of people putting themselves out in order to look after their guests. His friend arrived and we headed back to Elephantine Island. Our ferryman was also the spice shop owner. As he returned to his regular job (the shop had been left open but unattended the whole time that he was away in the boat to get us) Elaine went with him to buy some spices for home.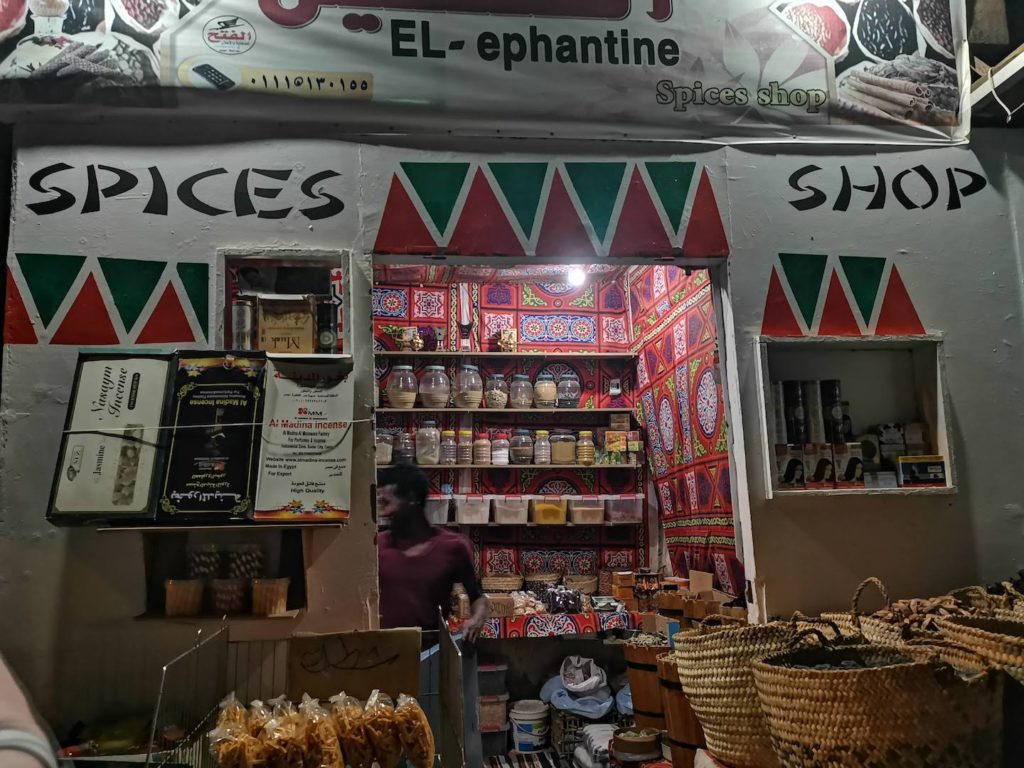 The following morning, we were up early for the ferry & taxi to the airport. This time the owner of the B&B accompanied us across the river to help with the loading & unloading. Off we went in to the city and across the top of the Aswan Dam, which was much narrower than I had thought it would be.
I enjoyed Aswan, the people are great. Elephantine Island was interesting and we really should have explored it more. The Old Cataract Hotel was lovely to visit. I'm not sure whether I'd choose to stay there? On the one hand, the history & opulence would make for a great experience. On the other hand, it is eye-wateringly expensive! Talking to the others, we definitely should have gone to Abu Simbel. Something for next time, although if we return to Aswan, Elaine may not want us to take a ferry to the hotel!