Cabarete is a small town on the north coast of the Dominican Republic. It is popular with kite-surfers due to the predictable winds all year around. There are pleasant beach bars & restaurants, with a 'cool vibe', and more local places slightly in land. We've visited here many times over the previous decade, generally in January. Going to the Dominican Republic in January for a couple of weeks is fantastic. Post Christmas, when everyone else is feeling as dark & gloomy as the weather, we are looking forward to some sunshine. Then after a couple of weeks away, we return to days that are noticeably longer than when we left, making it feel like the worst of the winter is behind us.
It is also popular with 'snow birds', retired Canadians who 'fly south' at the first sign of snow. The apartment we generally stay in is relatively flat, with only one step to navigate. It is close to the centre of town, so while the pavements aren't great, we knew we could manage. The pavement is level with the road most of the way, so crossing the road wouldn't be too difficult. And the Dominican people are very friendly and always willing to lend a hand. Funnily enough, locals pretty much everywhere are very willing to help a wheelchair user, occasionally, such as in Marrakech, even when not requested!
This was going to be our first flight since the disability. Fortunately, because I can walk short distances, boarding & exiting the aircraft wasn't too traumatic. Well, no more than usual! I HATE flying! I don't like the take off or landing and I get bored by the bit in the middle. I'm not as bad now, but I used to start getting anxious for a few days prior to a flight. My wife LOVES flying! She loves the feeling of being pushed in to her seat during take off. So while I'm looking out of the window, thinking to myself "it's not going fast enough, it's not going fast enough, we're not going to make it, we're going to stall…" she's having to contain her inner child from putting her hands in the air and going "weeeeeeeee"! As a result, I was always one of those people who are up and retrieving luggage from the overhead locker the second the seatbelt sign went out, and ready to get off the weird tin can that somehow didn't fall out of the sky, as fast as possible. In Puerto Plata airport, this has an additional incentive. Until 2018, tourists had to pay a 'Tourist Tax' on entry of US$10. Now it is included in the flight price, but prior to this, everyone queued up at a booth, handed over their dollars, received a card, walked ten paces, handed it back in, then progressed to the passport control. There were always massive queues. Knowing this, I previously would have route marched past meandering passengers to get as far up the queue, as quickly as possible.
Generally, while wearing a heavy winter coat in 30 degrees Celsius heat.
If becoming disabled teaches you anything, it is patience.
As one of those passengers "requiring assistance" we had to remain seated as everyone else disembarked. Another flight had arrived at a similar time, so there were almost 700 people going to be queuing. Ah well… patience.
There was another chap in a wheelchair, who was traveling on his own, my wife & I, waiting for the assistance to come to the aircraft. A guy arrived with my own chair that had been brought directly from the hold, and off we went. I hate being pushed, much preferring to propel myself, but it was his job and I couldn't be bothered arguing. As we caught up to the end of the enormous queue for tourist visas, he rolled me straight past our fellow passengers. A member of staff came out, opened a new till, sold three visas, one for me, one for my wife & one for the other chap, then she promptly shut this till again and disappeared. He pushed me to give my ticket up and on to passport control, where he stretched his arm across the front of the next person waiting, and us to the front. Once through, we headed to the baggage reclaim. There were no more than about fifteen people there before us. And I'm not exaggerating when I tell you that for the first and only time ever, our two suitcases were literally the first ones to appear!
We grabbed our cases, headed out of the airport, and met my friend Silvia, who had kindly come to pick us up.
"That was so easy…" exclaimed my wife;
"You should have become disabled years ago!"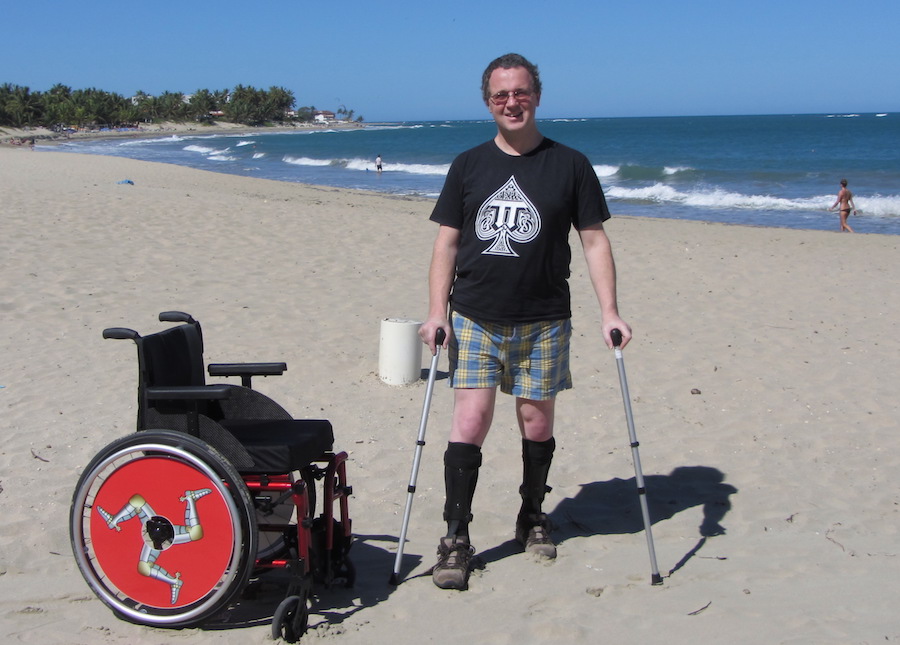 Bilateral Ankle Foot Orthotics ('AFO's) meant that my feet were fixed at 90 degrees to my legs. I still wear an AFO on my left leg but now use a 'Functional Electronic Stimulator' ('FES') on my right. I'll blog about the FES and other useful equipment sometime in the future. Walking on the sand was one of the hardest things I've ever done!
The 'Swoosh' photo is one of my photos from pre-disability days. I would get bored sitting on the beach, so I'd wander along, taking photos of the kite-surfers. Over the years, I'd become able to guess what they were going to do by their body language and how they were setting up. This guy had ridden a wave, then tried to rapidly turn, on a couple of occasions. Each time he'd crashed spectacularly. This third attempt was no exception, but I'd anticipated what he was trying to do, so got this shot a split second before he was wiped out again.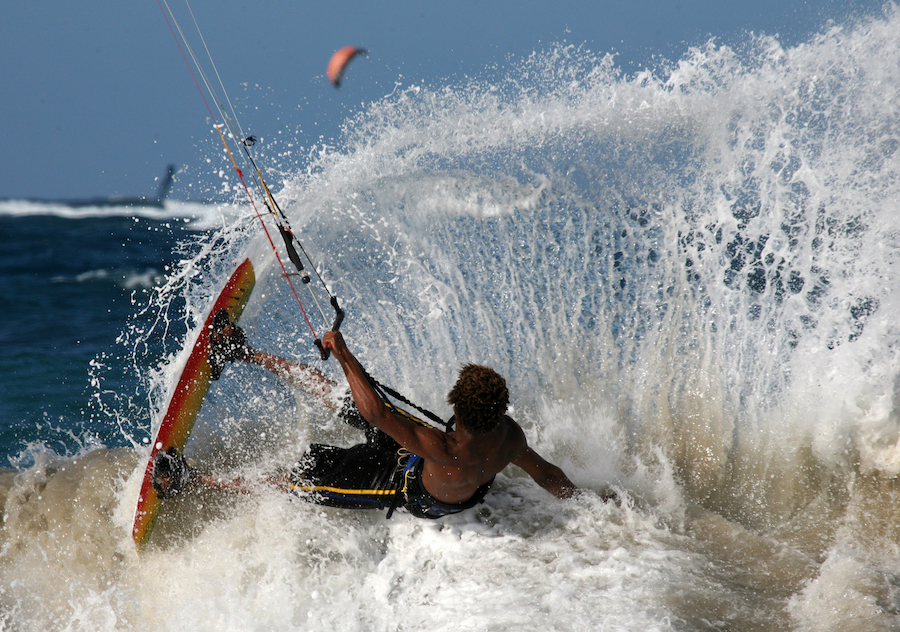 Unfortunately, walking the beach is one of the pleasures that I can't now do, but getting on to the beach at all is still something I love.