Off we go on a jolly little jape.
Unfortunately, there are no direct flights from the UK to the North Coast, Dominican Republic anymore. Which is a tad inconvenient, because thats where we wanted to go. As a result, we had a day trip to the USA (which will feature in a rant/blog all of its own when I get around to it), then flew down from New Jersey to Puerto Plata. But first, we had four nights in Manchester. This is part one of the trip.
The English language is a peculiar thing. It has all kinds of rules. Most of us obey the rules without even knowing that the rules exist. Unless you have really studied the subject, you, like me, simply conform to the rules that you've learned without any awareness that you learned them. My 'O' Level English, grade 'C', certainly doesn't make me an expert.
One of the rules is that there is an order for adjectives. According to Matthew Anderson at the BBC the order that must always be observed is: opinion-size-age-shape-colour-origin-material-purpose Noun."
I'm still not entirely sure how it applies, even with the explanation in front of me, but we all know that 'the good, the bad and the ugly' works, while 'the bad, the ugly and the good' just doesn't sound right.
Never being one for convention, I'm going to go with the bad, the ugly & the good.
Our first stop was four nights in Manchester. Normally before flying off anywhere, we stay at The Premier Inn at Heald Green, a couple of miles from the airport, but I had a meeting with my lawyer in Manchester's centre, so looked for alternatives. Initially, I booked a 'serviced apartment'. But despite a couple of emails and a phone message left on their machine to confirm accessibility, they never responded to me, so I canceled the booking. I then found the Travelodge in the city centre. It was a good price, so I booked four nights.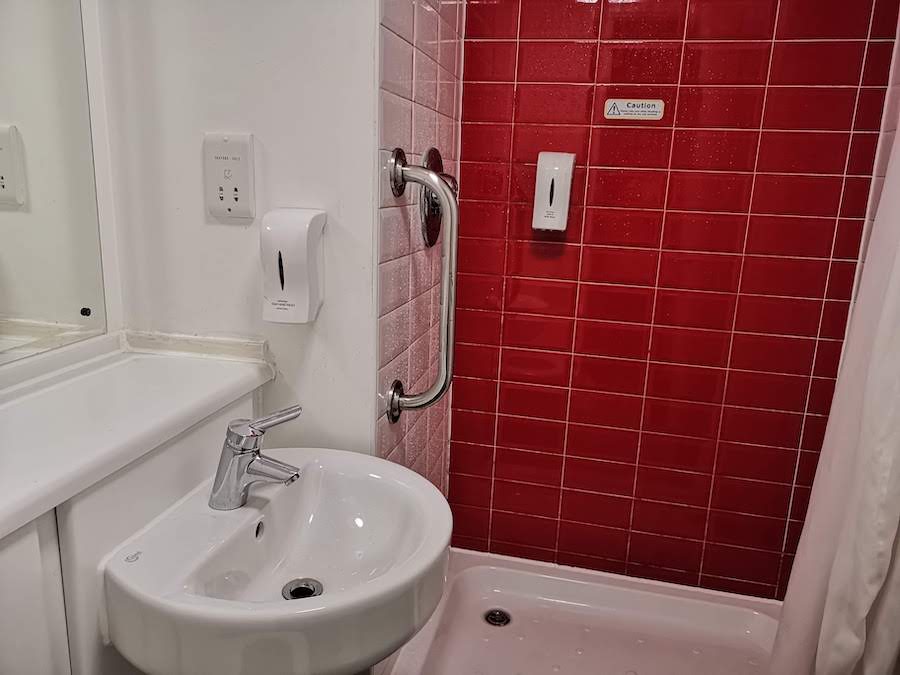 Starting with 'The Bad'. Why, oh why, oh WHY do Travelodge insist on using chrome grab rails in their bathrooms & showers? Anyone with limited mobility, who is actually using the grab rails, is at risk of slipping when they are wet, or even more so, when soapy and wet.
Come on Travelodge, a simple Risk Assessment will advise you to use non slip rails. It is the one thing that really puts me off Travelodges (although Premier Inn are as bad). The rails aren't there to be decorative, they should be there for functionality.
Moving on to 'The Ugly'. This is an old Travelodge and would benefit from a bit of TLC. The carpets are stained, the rooms are bit weary. I've stayed in other Travelodges that have been refurbished and they do feel 'nicer', although no doubt if/when this one is re-done, the price for a room will reflect that, so perhaps keeping it cheap & cheerful is a better idea?
Talking of cheerful, that brings me on to 'The Good'.
And you'll be glad to know, there was much more of 'The Good' than anything else. Firstly, the staff were all excellent. Friendly, smiling & cheerful as well as being helpful. In the 'service industries', this really should be something that we customers could take for granted, but it too often isn't. Here, the staff act like they actually want their guests to have a good visit. Quite refreshing really. The guy who checked us in also checked as to whether I would require assistance in the event of a fire? I'm Health & Safety trained and always carry out my own assessment of an environment and develop my own Personal Evacuation Plan with evacuation in my mind, but it is still good to be asked. We then checked in to our 'accessible' room but found that it had a bath, with shower over it. I can manage a bath, but it is far from easy. But the accessible room is larger than most, so plenty of wheelchair room. If it was just one night, I'd have stayed, but as we were there for four nights, we asked if we could move to a room with a step-in shower. The lady on reception showed us the available rooms and let me review them. One (room 11) was a family room (double & separate fold down bed) so this had more space. The shower/toilet was quite small, but that meant I could 'furniture surf' from bed to toilet to shower. It had a grab rail (albeit, a super-slippery chrome one… really Travelodge, sort it out!) That would be best for us. The nice lady went and checked with her manager whether they could allocate a family room to us. They could, so we transferred. The wifi (pre-booked) worked well, there was plenty of tea & coffee, the bed was comfortable.

After a brief rest, we went out for an explore. I'd chosen the Travelodge because it was walking/rolling distance to the lawyer, but was pleasantly surprised to find out how close we were to Manchester's centre. The Arndale Centre is literally a few hundred yards away. We were about half a mile from Chinatown, so wandered down there and in to the first accessible restaurant that we came across (the New Emperor). It is a similar distance to The Printworks and the Football Museum. If visiting Manchester to shop or enjoy the city's culture etc, then this is a perfect location.
From a wheelchair user's perspective, the designated accessible room had a good range of grab rails by the toilet (slippery chrome ones though… have I mentioned this already?)
https://www.youtube.com/watch?v=iEKLFS-aKcw
Yes, I know, I should

Let It Go, Let It Go

…
Room 11 didn't have grab rails by the toilet itself, although there was one on the wall directly opposite and I could reach it with a stretch, so that was fine. The corridors are a bit tight for the chair, including two doors that are very close to each other. Had I been on my own, it would have been awkward (I'm sure the staff would happily have helped, although for some solo, wheelchair using travellers, having to ask for help through doors is really annoying). There is on-site parking (£10 for 24 hours for guests, but free for 'Blue Badge' holders, which is good).
Overall, this was a fantastic location, very friendly staff and excellent value. When we left, it was about half an hour drive to the car park at Manchester Airport. We will definitely return there.